Sitting in the Massachusetts Institute of Technology (MIT) graduate course, Development Ventures, in the fall of 2014, Oluwasoga Oni was challenged to come up with a scalable solution to a problem affecting more than a billion people. Oluwasoga recalled visiting the hospital his father operates in a small town in Ondo State, Nigeria, just a few months earlier. During the hospital visit, he was surprised to see a pile of broken-down medical equipment rusting in the dust. His father, like many doctors across sub-Saharan Africa, struggles to afford high-quality medical equipment and instead settles for cheaper, substandard alternatives more prone to breakdowns. Furthermore, lack of trained biomedical technicians available in Nigeria means that when a device breaks down, it's likely to stay that way. As a result, more than 40% of all medical equipment in developing countries like Nigeria is currently out of service.
MDaaS – Medical Devices as a Service
Committed to addressing these challenges, Oluwasoga, along with co-founders Genevieve Barnard, Joe McCord, and Opeyemi Ologun, launched MDaaS (Medical Devices as a Service) in early 2015. MDaaS provides a unique combination of high-quality refurbished medical equipment, diverse acquisition options, and maintenance and repair services to hospitals in Nigeria. By tapping into the secondary equipment marketplace of developed countries, MDaaS is able to reduce the equipment purchase price to as low as 30% of the cost of brand new equipment from top-tier manufacturers. And, by providing a structure for hospitals to obtain, finance, and support this equipment, MDaaS makes it easier for them to afford, and keep operational, the critical lifesaving tools they need to improve the health outcomes of all Nigerians.
One particular focus of MDaaS is to help lead the country's transition from analog radiography to digital radiography machines. Currently, approximately 90% of the x-rays performed in Nigeria are analog and processed manually, despite the many benefits of using digital x-ray machines. Digital x-ray images are available immediately and can be easily edited or sent electronically by the internet to a physician at another location to read or make a diagnosis, while analog x-ray procedures require additional time for film development, produce lower resolution images, and are harder to share with other providers. They also expose the patients to more radiation, resulting in greater health risks.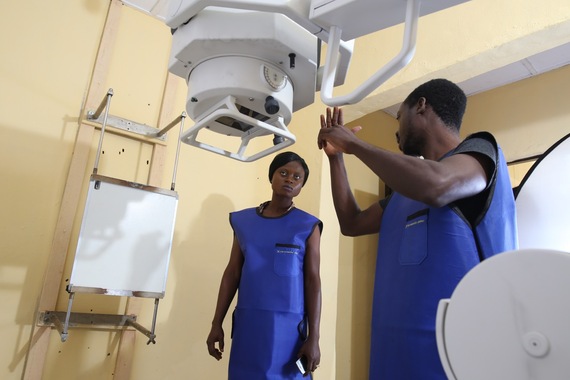 MDaaS CEO and co-founder Oluwasoga Oni teaches a radiography technician how to use the newly-installed digital x-ray machine at Inland Medical Center in Ikare-Akoko, Nigeria. Photo Credit: Adebayo Rotilu of Twelve05 Photography.
Creating Affordable Access to High-Quality Medical Equipment in Nigeria
MDaaS works with independent equipment suppliers in the US and Europe to bring medical equipment to Nigeria, where they run quality checks and complete the installation at no cost to the customer. Each device includes one year of service support, with the option to purchase additional service contracts after the first year, and service and operating manuals.
In January 2016, MDaaS started a pilot with three hospitals in Ondo, Kogi and Lagos States. By the end of the year, they had doubled their customers, expanding to three more hospitals, and their revenue from the initial customers. MDaaS primarily targets private institutions, which serve up to 70% of the population and typically do not receive support from NGOs and the government. Enabling access to high-quality medical equipment changes how these hospitals operate. One hospital they helped transition from analog to digital radiography doubled the number of x-ray procedures done each week. Another purchased a C-arm, a surgical imaging device, and now completes an average of two spinal fusions every week using the device. MDaaS also offers ultrasound machines, patient monitoring systems, ventilators, and defibrillators (see the full portfolio here).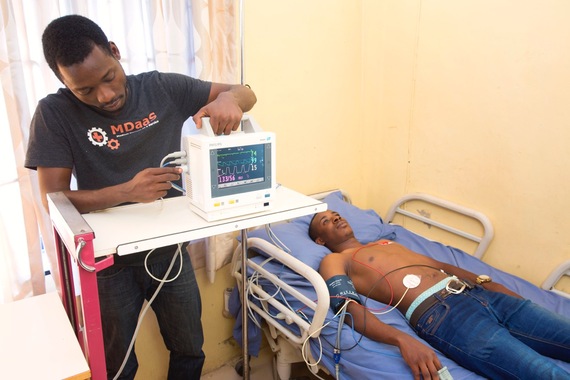 Oluwasoga tests out a patient monitor on a hospital staff member. Photo Credit: Adebayo Rotilu of Twelve05 Photography.
The MDaaS team has had to overcome several challenges in order to achieve this initial success, including navigating the country's bureaucracy to obtain importation permits, foreign exchange difficulties, and hospital's inability to pay, linked to Nigeria's current recession. Additionally, they found that more education around medical devices would be helpful, such as clarifying the difference between "used" and "refurbished" devices.
What's Next
Next, the team is focused on expanding their services throughout Nigeria, as well as launching a new leasing initiative by the end of next month. Leasing already exists in the country for consumer goods, such as cars and refrigerators, but does not currently exist for the medical device market. MDaaS is excited to partner with a progressive financing house, Rosabon Financial Services, to provide medical equipment leasing for the first time in Nigeria. Under this initiative, hospitals will be able to lease a device with the intent to purchase and generate revenue in the interim to pay off the loan.
"There's a significant middle class in Nigeria, and many doctors are running profitable private practices," Oluwasoga said. "At MDaaS, we are using a scalable for-profit business model to help overcome Nigeria's medical equipment inequity."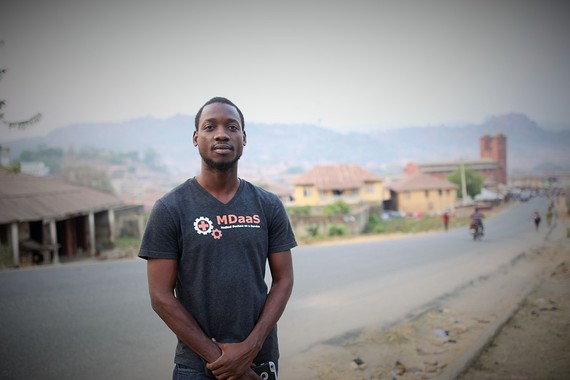 Oluwasoga in his home town of Ikare-Akoko, Nigeria. Photo Credit: Adebayo Rotilu of Twelve05 Photography.
Contact
MDaaS is in the process of raising money for their seed round of financing. For more information or to contact MDaaS, please view their website or email Oluwasoga at soga@mdaasnigeria.com.